About Idaho
---
Facts About Idaho!
Population:

1,754,000.

(As of 2018 US Census Bureau)

Land Area:
83,557 square miles
Capital City:
Boise
Highest Elevation:
12,662 ft. (Mt. Borah)
Lowest Elevation:
738 ft. (Lewiston, ID)
Water Mass:
823 square miles
River Miles:
3,100 miles (more than any other state)
Information on Southeastern Idaho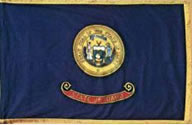 State Flag and Seal: A silk flag, with a blue field, 5 feet 6 inches high, 4 feet 4 inches on pike is bordered by gilt fringe 2 1/2 inches wide, with the State Seal of Idaho in the center. The words "State of Idaho" are embroidered in gold block letters two inches high on a red band below the Great Seal. It was adopted by the 1907 legislature. The state seal was designed by Emma Edwards Green.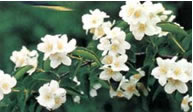 State Flower: The Syringa (Philadelphus lewisii) was designated the state flower of Idaho by the legislature in 1931. It is a branching shrub up to 12 feet tall with clusters of white, fragrant flowers that bloom in late spring to early summer. The blossoms are similar to the mock orange, have four petals, and the flowers grow at the ends of short, leafy branches.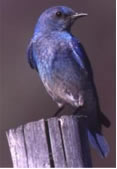 State Bird: The Mountain Bluebird (Sialia arctcia) was adopted as the state bird for Idaho by the state legislature in 1931. The Bluebird is about seven inches long, has an azure blue coat, and a blue vest with white under-feathers. The mother bird wears a quiet blue-gray dress and usually lays six or seven blue-white eggs. The Bluebird's nest is usually built in a hollow tree or in a crevice. The Bluebird is very neat about its home and carries all refuse some distance from the nest.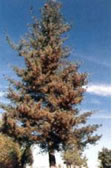 State Tree: The Western White Pine (Pinus Monticola pinaceae) our state tree is probably most notable since the largest remaining stand of this timber in the United States grows in the northern part of Idaho. Tall and slender, the Western White Pine is native to forests of the Pacific Northwest from British Columbia to Montana and as far south as central California. It has blue-green needles, slender cones and can grow to 100 ft. It has many other fine qualities such as straight grain and soft, even texture. The Western White Pine was named Idaho's state tree in 1935.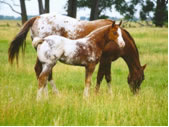 State Horse: Appaloosa was the first horse breed to be acquired by the Nez Perce tribe around the 1700's leading to the tribe developing into excellent horsemen and breeders. Settlers began to refer to their horses as "a Palouse horse" in reference to the Palouse River in north Central Idaho. The term evolved from that to "Palousey", "Appalousey" and finally "Appaloosa". An Appaloosa Horse Club was chartered in 1938 and has become one of the leading equine breed registries in the world. The Appaloosa was named Idaho's state horse in 1975 because of its importance to Idaho history.
| | |
| --- | --- |
| State Fruit: | Wild Huckleberry |
| Fish: | Cutthroat Trout |
| Gem: | Star Garnet |
| Dance: | Square Dance |
| Motto: | "Esto Perpetua" meaning "It is perpetual." |

Major Industries:
Manufacturing
Healthcare
Energy Research
Cyber Security Innovation
Agriculture
Tourism/Recreation
Food Processing
Computer Technology
Number 1 National Producer of:
Trout
Austrian Winter Peas
Lentils
15 Largest Cities in Idaho (Estimated As of July 1, 2018):
Boise: 228,790
Meridian: 106,804
Nampa: 96,252
Idaho Falls: 61,535
Caldwell: 56,541
Pocatello: 56,266
Coeur d'Alene: 51,303
Twin Falls: 49,764
Post Falls: 34,691
Lewiston: 32,817
Rexburg: 28,337
Moscow: 25,146
Blackfoot: 11,922
Shelley: 4,413
Rigby: 4,062
Information from "Facts about Idaho" page on VisitIdaho.org
If you are interested in a relocation package, I'll send you one FREE. Just CLICK HERE and let me know what area in eastern Idaho you are interested in. I'll get it in the mail right away!
Looking to Relocate?
Relocation can be an exciting but stressful process. We can make this easy for you! We understand what is involved and what your needs are. We are professionals with in depth knowledge of the neighborhood, and are committed in finding you the right neighborhood based on your criteria. Please fill out the following form so we may best assist you.